Hiring help in the Shopify Experts Marketplace
This page was printed on Oct 21, 2019. For the current version, visit https://help.shopify.com/en/manual/experts-marketplace/hiring-help.
The Shopify Experts Marketplace connects you with Shopify Experts who you can hire to help you with complicated or difficult tasks related to building your business.
There are two ways to find Experts to work with. You can browse service categories to find Experts who provide the help you're looking for, or you can create a job, which matches you with an Expert for your needs.
Preparing to work with an Expert
Before you consider working with a Shopify Expert, you should be prepared to fully describe the requirements for your job. Here are a few ways to identify your requirements, and prepare for your first conversation with an Expert:
Do your best to familiarize yourself with any business or technical terms that are related to your job. This can make it easier for you and an Expert to discuss the work that needs to be done.
Do some preliminary research about the work. It can be helpful to find examples of other businesses who are doing something similar to what you have in mind. Make sure that you've clearly defined your job's budget, timeline, and results.
Make sure that you've clearly defined your job's budget, timeline, and results.
Picking the right Expert
The Shopify Experts Marketplace provides you with numerous Experts that can help meet your needs.
You can get started by visiting experts.shopify.com. From the menu, select the service that best suits your needs. And if you're having trouble finding what you're looking for, then you can select one of the Expert guidance options.
After you select a service, you're presented with a list of Experts who are ranked based on their quality of work and past experience on the marketplace. For each Expert, you can see their starting price for the service, the jobs that they've completed, and the reviews they've received for the service. You can also filter Experts based on their price, country, and languages spoken.
You can find more information about each Expert by clicking on their profile. This shows you what's included in their starting price, additional work and pricing information.
Expert profiles also show past work and reviews.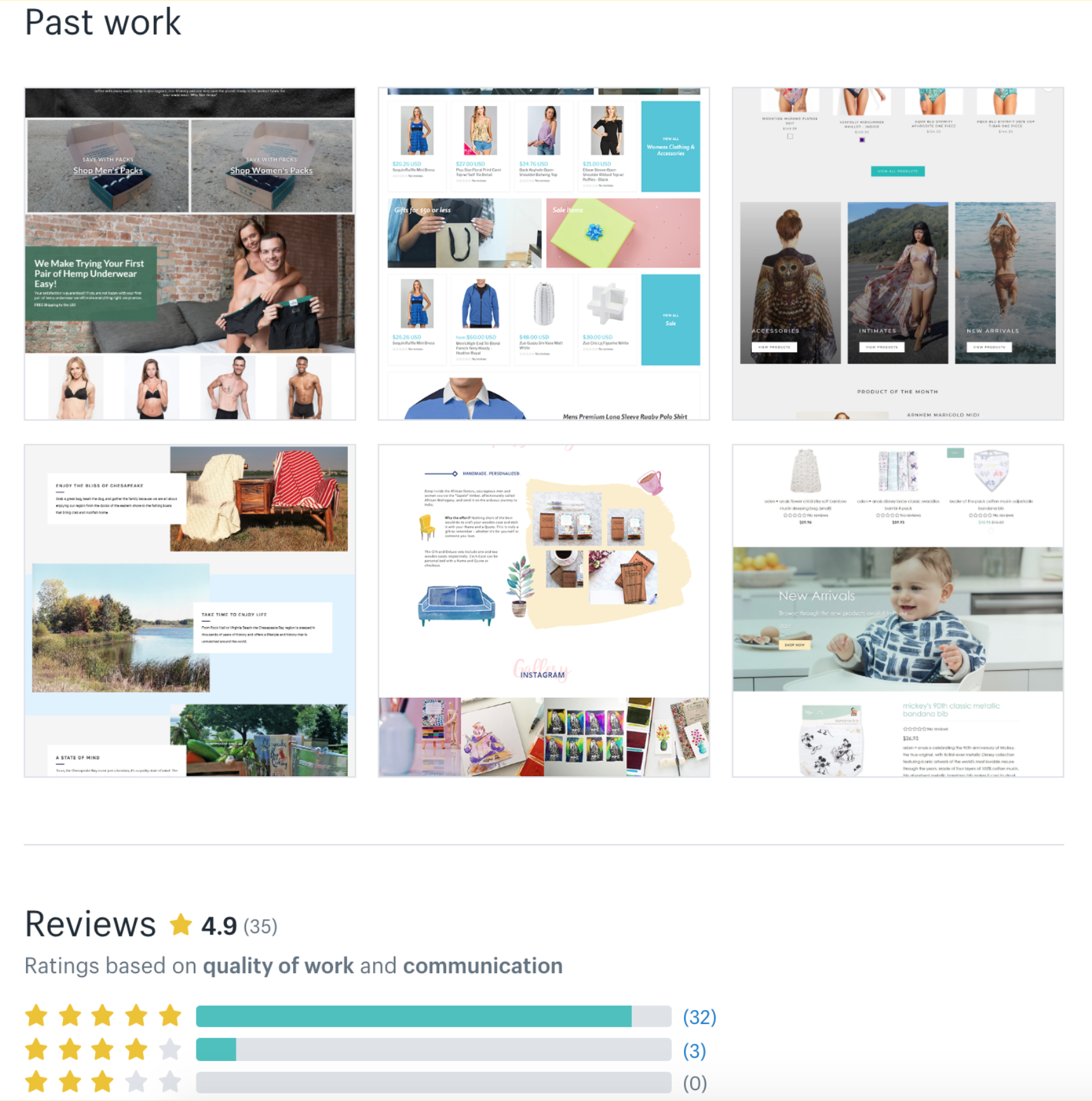 As you review the available Experts, carefully consider all information, including the price, scope of work described, examples of past work, and reviews. After you've decided which Expert to contact, you can enter your store URL and request a quote.