Working with Experts
This page was printed on Sep 22, 2019. For the current version, visit https://help.shopify.com/en/manual/experts-marketplace/working-with-experts.
These guidelines can help you create good working relationships with Experts and make sure that your jobs are completed successfully.
Guidelines for creating and managing your jobs
The following guidelines can help you better request and manage jobs that you create within the Shopify Experts Marketplace.
Define your job's scope
After you have created your job or contacted an Expert, you will typically start receiving responses within 24 hours. You will receive an email notification whenever an Expert responds. To discuss the job with the Expert, you'll be able to use the communications tool in the Experts Marketplace, that helps you keep track of the conversations associated with your job. You will be able to send messages and files back and forth quickly, from the convenience of your Shopify admin. The conversation areas are created whenever a new job-related discussion is created with an Expert.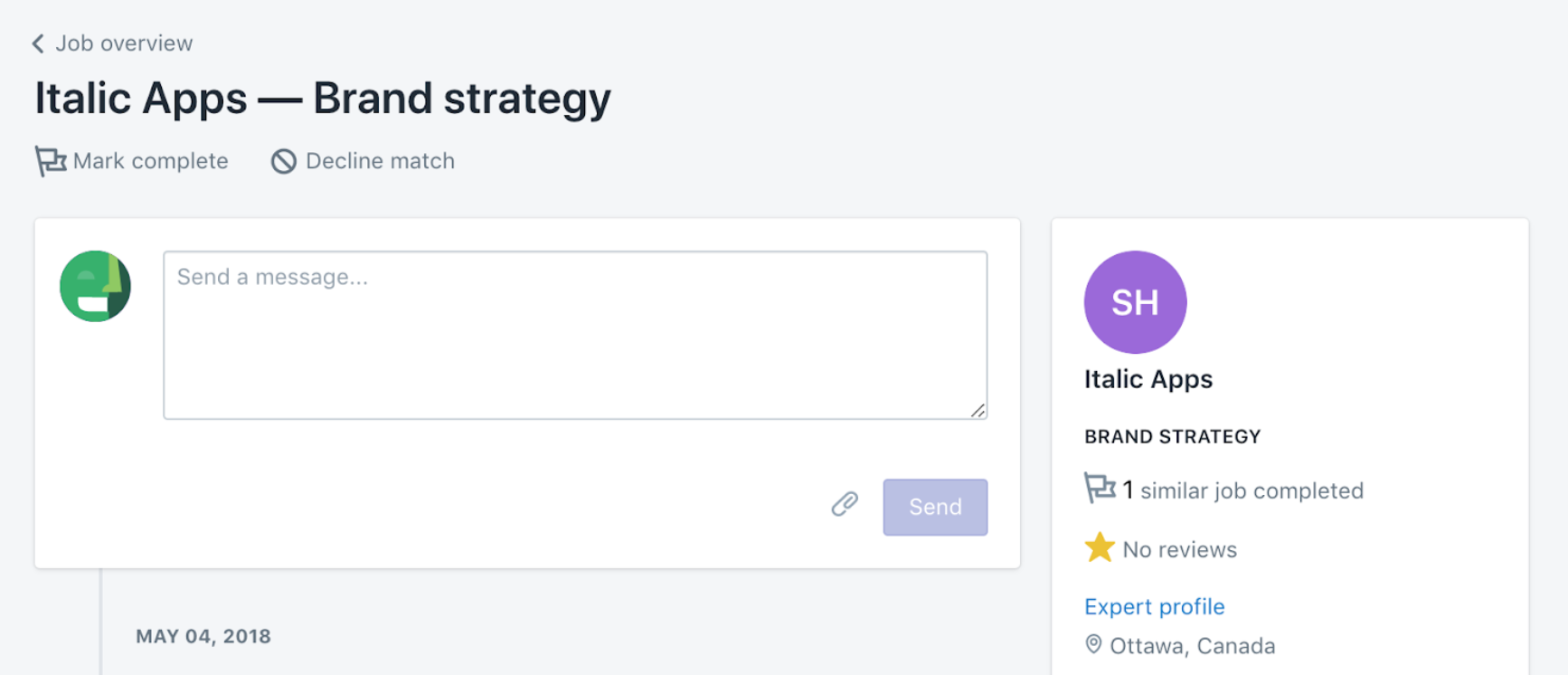 After you've clearly identified and communicated the job's requirements in your job, you can use communications to identify its scope (including your deadlines, deliverables, and budget). It's important that you identify all the tasks that are a part of the job before getting the work started.
Verify the scope throughout the process
Verify that what the Expert has proposed matches what you expect, both at the beginning and throughout the job. This is one of the most important parts of managing your job.
Keep communications within the marketplace communication tool
As you are communicating with the Experts on the scope of your job, be sure to keep the conversation your chat area in the Shopify admin. By keeping your conversations in one place, it's easier to refer back to previous conversations between you and the Expert. If you need to have a conversation with an Expert outside of this messaging area, you should post a summary of your conversation to the Expert in this communicate area too, to ensure that all your conversations are tracked and easy to refer back to.
Giving Experts access to your Shopify store
Depending on the job, you might be required to give an Expert access your Shopify admin. The best way to do this is by requesting the Expert to create a collaborator account. Collaborator accounts give access to only the sections of your store that you want the Expert to see, and do not count towards your store's staff limit.
Providing Feedback to Experts
It's important to stay in contact with the Expert during the job, but be mindful that it can be inconvenient and distracting for them to answer too many questions during the process. When you reach a job milestone, it's often an ideal time to provide feedback (either positive or negative). Providing feedback can help to improve the process of working together and improve results. It also helps to make sure that both you and the Expert are in agreement about the job details, and it can prevent misunderstandings from arising.
Avoid making changes to the job scope
It's important that you and the Expert define a process for requesting adjustments to the job. Requests for changes or modifications, however small they might be, should be agreed upon through the established approval process before they're incorporated into the job.
After you define your process, you and the Expert can use it to evaluate requests for changes in the job scope, and the impact they would have on the job overall. For example, would the requested changes be ready with the required quality and within the required deadlines? Sometimes even small changes that appear to have a positive impact on the job can significantly disrupt it or increase its cost, so be careful of making changes to a job after you've already agreed on its scope.
Paying Experts for their work
When you're planning your job with an Expert, you need to agree upon how you'll pay for the work: either at an hourly rate, or at a fixed price. Depending on the Expert that you're working with, they might prefer one option or the other. And depending on the job, one option or the other might be the best fit.
Fixed-price jobs
Paying for work at a fixed price is a good choice for jobs with a defined or limited budget. And this doesn't mean that you have to make only one payment. You can divide up the payments according to progress or completion milestones. For example, you might make one payment upfront, one halfway through, and one when the job's done.
Hourly-priced work
Paying for work at an hourly rate is a good choice for large jobs that have long-term deadlines. In this case, the job is billed based on the amount of hours required to complete it, and typically with regular invoices that reflect the hours worked during a given time period.
Once you have decided to work with an Expert, the Experts Marketplace makes it convenient for you to pay for the work. Experts can send you an invoice for fixed prices or hourly priced jobs. You will receive an invoice through email as well as in your job's timeline. From there you can simply pay the invoice with your existing payment method on your Shopify account.